These annual ongoing studies share information that is meaningful to executives of product organizations in general and product executives in particular. Once the survey is complete, the data is shared with an independent statistician who conducts regression analysis. The result of this regression analysis are factors that are highly correlated with high performance on product teams. Interesting trends:
Product Development Methodology Adoption
This first illustration displays product development methodology adoption rates for the last four years. As you can see, Blended methods (combining Agile and Waterfall) continue to dominate in terms of usage. Popular belief would lead one to believe that Agile methods currently rule but the fact is last year's data illustrated a decline in Agile adoption for the very first time since we began tracking adoption rates.
User Experience Adoption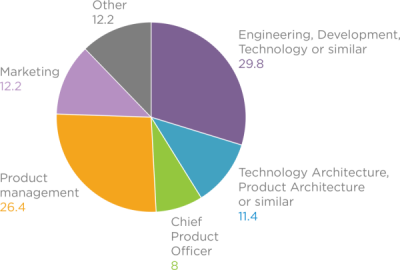 They asked respondents to tell us about where user experience professionals functionally report within their organizations (see pie chart above). Engineering, development and technology currently has the edge with product management following closely behind.
However, when we asked a follow-on question regarding "where UX professionals should report to be most effective" they got a different answer… Respondents reported by a wide margin that UX pros should report into product (either the product management function or the Chief Product Officer (CPO)).
Take the New Survey
All of these findings are from our 2015 study and that white paper is still available. If you have 7 minutes to invest, I encourage you to take the new survey
If you choose to fill out the survey – you will be among the first to receive a copy of the 2016 white paper as a thank you! They are also randomly drawing for a $200 gift card as well.