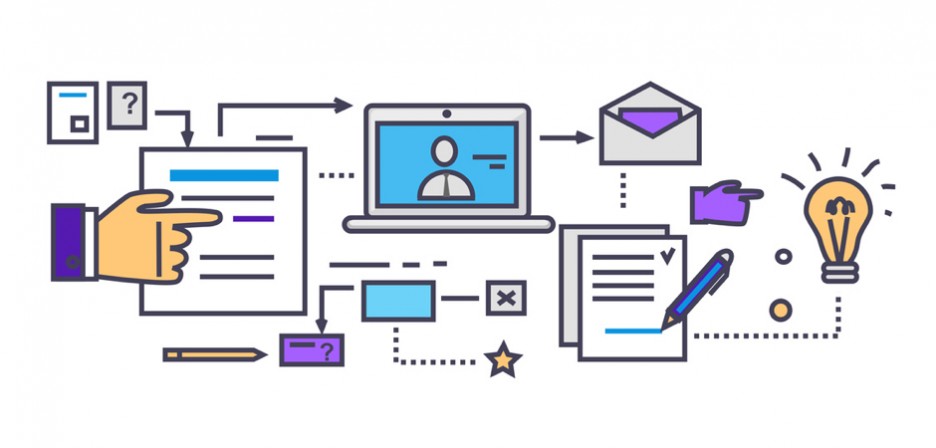 John Knight posted this a few months ago. I believe that that these 10 trends are worth paying attention to:
"…underpin digital transformation across mobile, tablet, desktop and the wave of new UI technologies such as wearables… these changes will shift the focus from consumer to co-creator and from metropolitan chic to global reach, thus realizing the true value of science based design."
1.  WORKFORCE TRANSFORMATION: Smart machines start to replace humans requiring a back to basics HCI approach
Expect more and deeper disruption in traditionally non-digital industries like law, accounting, and health as digital transformation, automation and robotics change work and the workplace that will replace human workers with machines. As smart machines start to replace human actors, UX will need to move from delivering simple usability to dealing with more complex domains that blend human and technological agency.
2. MICRO CO-CREATION: Tiny moments of value rather than big wow delight as UX tackles profit and value
Companies will find it harder to protect and grow revenue as new and disruptive newcomers, anti-competitive technologies and cross border competitors erode their core propositions and more importantly the size of individual transactions. Less will be sold in shops and more online and post-crash economics will drive smaller faster rather than bigger slower – especially as the digital divide dissipates and global markets mature digitally. Beyond removing barriers to conversion, UX will need to be even more tightly coupled with customer facing operations and 'Business Thinking'. This means not just making technology usable but building value creation into all touchpoints and weaving it in as a design element.
3. MASS UX: User Experience reaches global critical mass
With more and better platforms to create and showcase work and design patterns there's never been an easier time to do user experience. For the more seasoned practitioner, it should all get easier, cheaper and those pesky design tools actually become mass usable. As this growth continues (before the bubble bursts) there will be a gravitational shift from the centers of metropolitan cool to bottom of the pyramid global version power. In the longer term, everyone doing UX will require a tighter, more focused and stronger core discipline. The key issue is ensuring the long-term sustainability of the field is better professional standards and accreditation that recognizes practice based experience.
4. MIND THE SERVICE GAP: Tweaking existing systems is where innovation lies
As technology platforms mature and customer expectations grow, the job will be to join existing sub-services into holistic offerings rather than designing new ones from scratch. Quick wins to reduce gaps will win-out over big projects and in-house teams will lead the way as they know the more mature domains that need fixing than the externals. For UX that means working closely with technology providers to focus on reducing pain points, integrating existing systems and driving standardization before then moving to optimize them.
5. ENTERPRISE IS WHERE THE ACTION IS: New UI paradigms incubate in the workplace to the home
Enterprises will drive internal adoption of innovative technology, mobility and innovative interfaces such as wearables as workforce enablers and at the same time as consumer goods and services plateau in terms of UI, quality and functionality. The exception is voice (and VR for entertainment) which has user value beyond novelty. You will start to see people talk rather than push and touch interaction. UX will grow into and back to its socio-technical roots, making work better, more enjoyable.
6. SECURITY APPEAL: Safe will overtake cool as driver for adoption and use spawning a new design field
The robustness, clarity and visibility of organizations trustworthiness and security will become a primary part of the customer proposition and a constant draw on organizations resources. Unlike performance, which is a non-designed part of the user experience, security and trust will become part of the UX designers' domain. UX will need to support this shift by seamlessly integrating security and safety features, cues and signposts to help users build trust and know how to deal with risks.
7. DIGITAL UNDIVIDE: Huge growth in adoption outside of the trendy fringe
The biggest driver in consumer digital transformation will be from growth in current platforms and technologies by the less connected masses currently not using top of the range smart devices rather than from the early to mid-adopter segments. For UX that means tackling the full range of platforms and devices to not just deliver omni-channel experience for the few but reach for the masses. Localization will re-emerge as a delivery capability, this time done locally rather than centrally.
8.  DESIGN AUTOMATION: Design gets automated
The integration of design, marketing and optimization tools will reduce human aided design and automate the process. UX Agencies will need to focus on their craft, to deliver niche, focused design propositions as their customers adopt better and more integrated automated design and delivery solutions from new providers such ad agencies. Everything will start to look the same too except where the craft of UX is being done well. For UX this will see the emergence of the Design Scientist. Design Scientists will tweak the values, select the parameters and apply relevant aesthetics models for the system and passing these over to developers rather than designing. They may build generative experiential programs based on gestalt principles rather than rendering. Design Thinking will be a filter to apply. Anything transient like fashion will go to the way of machines and will change at clock speed rather than seasons.
9. TRULY PERSONAL EXPERIENCES: Data enables every experience to be personalized
Aggregated data has enabled single customer views and will go on to enable UX to deliver truly personalized content, interactions and services. UX will be a secondary partner in personalization as it will become an automated process. This shift will require a much more agile approach to design where rather than single solutions there will be multiple segmented and highly tailored interaction patterns. UX will need to be the true voice of the user in the world of data-driven engagement and atomic personalization to survive against the data and optimization providers.
10.  TRIANGULATED ENGAGEMENT INSIGHT: Integration, integration, integration…
Understanding tomorrows co-creating service encounter requires a new research toolkit. Organizations will integrate the range of research methods into a set of cross-functional enablers that draw on the benefits of market research, Human-Centered Design (HCD) and optimization as a single end-to-end in-house service. UX practitioners will need to be open to and with their research peers and drive quality in user research through robust methods and feedback loops into design.
The three strongest research methods for UX? That would be usability testing, co-design and those dusted-off formal HCI methods such as GOMS and KLM.